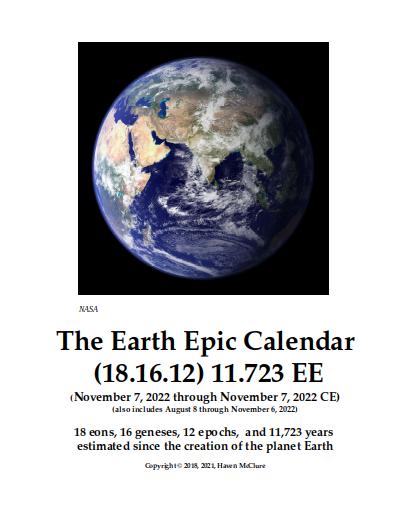 It's here! The Earth Epic Calendar for 11723 is available here for purchase. The New Year on the Earth Epic Calendar begins this year on November 7 of the Gregorian calendar, so prepare for the new year with this download.
The calendar is a downloadable .pdf that includes the last quarter of 11722 and all of 11723. It shows both the solar and lunar dates in the Earth Epic Calendar and the corresponding Gregorian Calendar date for easy conversion. In addition to the calendar itself, you will have full color illustrations showing how the calendar works. It also has pages showing timelines of the history of the Earth and human history according to the Earth Epic Calendar. Finally, the calendar shows the holidays for the United States, the United Kingdom, Canada, Australia, Ireland and Jamaica–the six largest countries that have English as the primary language.
The calendar is 26 pages. Ten of the pages consist of the five quarters split in half to make them more readable, because stuffing 90 squares on a page makes it hard to read. Each half quarter is accompanied by a corresponding illustration, making 20 calendar pages overall. The remaining pages consist of the cover, the back, an explanation of the calendar and a timeline of with one page of Earth history and two pages of human history as dated by the Earth Epic Calendar.
The calendar can be printed on 8 1/2″ by 11″ paper with the short ends of the pages stapled together. It's recommended to print either double-side on 80# paper or single-sided on 20# paper. Printing double-sided on 20# paper is not recommended because text or graphics will otherwise show through and it will be hard to read.
It's only 35 days until the Earth Epic New Year so ring in the new year now.